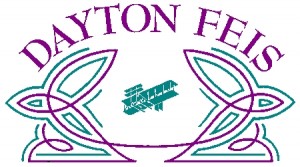 1973 – 2023
Come celebrate our 50th year!
The Dayton Area Feis – April 29
Hobart Arena in Troy, Ohio
We are thrilled to be able to celebrate this special milestone with all of you, and hope you will encourage your
dancers to join us for this year's feis, once again at the Hobart Arena in Troy, Ohio. 
 We have several surprises in store for attendees of the feis, including special gifts for our First
Feis dancers, a special treat in each dancer's awards bag, and more. The Hobart Arena is a
wonderful venue, with easy viewing of the stages, concessions, plenty of restrooms, and space
for everyone to prepare for competitions, socialize with friends, and enjoy the day! 
Thank you for considering joining us for our 50th feis this year. We look forward to seeing all of
you on April 29th in Troy, Ohio!
Sincerely,
The Dayton Area Feis Committee
Feis Registration:
Registration for the Dayton Feis will open on Sunday, February 19, 2023 through Quickfeis.
Hotel Accommodations:
A block of rooms has been reserved at the Fairfield by Marriott Dayton-Troy for 119 USD per night from April 28 to April 30. Last day to reserve a room is March 31, 2023. Book your group rate for Dayton Feis
We have 8 of 10 judges confirmed for the feis: 
Michael Patrick Gallagher
Michael Dillon
JJ Hester
Tara Reid
Eilis McKenna
Annie Hurley
John Jennings
Donna Means-King
Jacinta King O'Sullivan
Kelly Gallagher Fritzinger   
Musicians:
Jimmy Butke
Owen Schaffer
Marty Kilroy
Sandy Jones